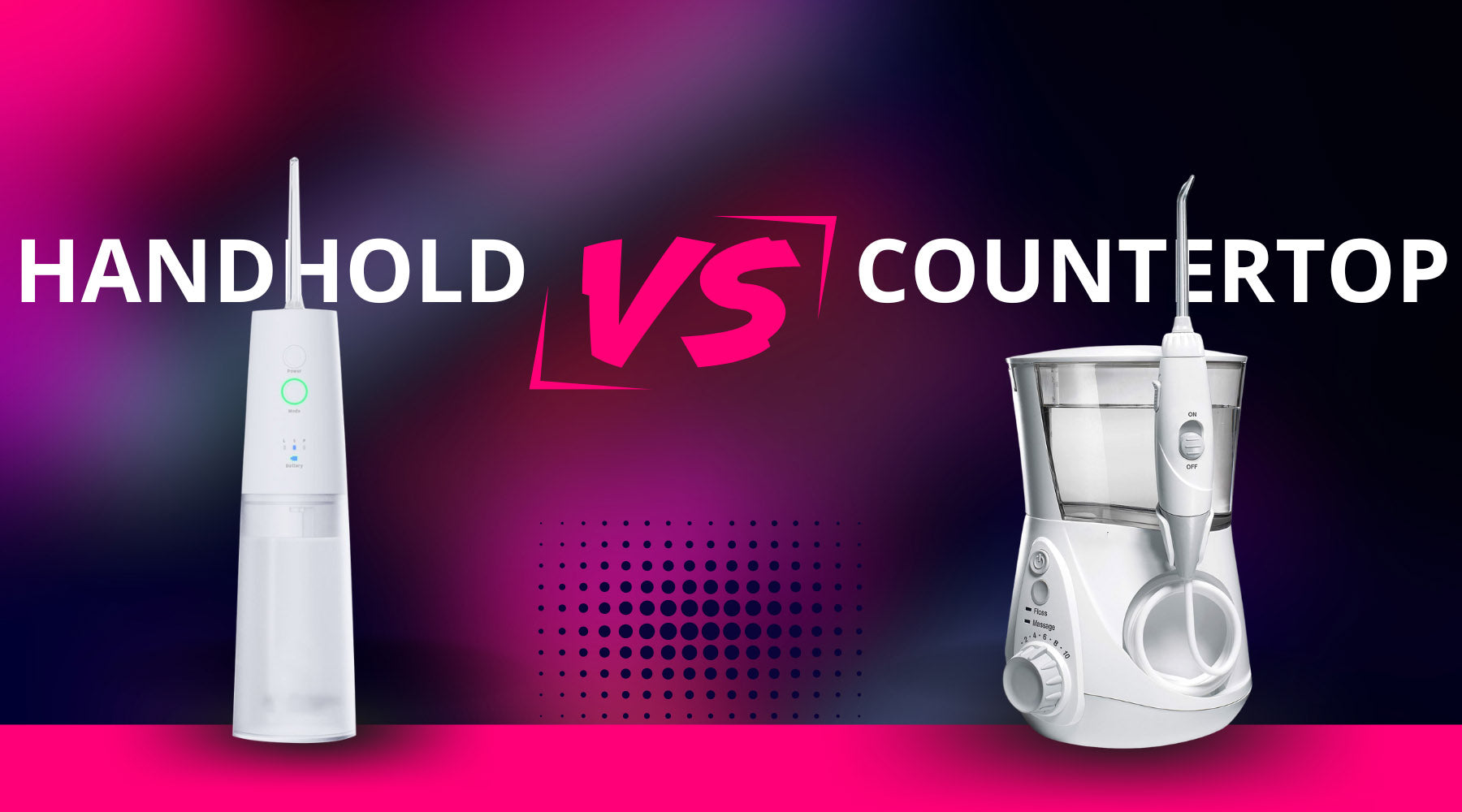 Choosing the Right Water Flosser: Countertop vs Handhold
Oral hygiene is a vital part of our daily routine, and water flossers have become an essential tool in maintaining a healthy smile. When it comes to choosing a water flosser, the main decision is often between a countertop model and a cordless one. Here's a comparison to help you find the right fit for your needs.
Countertop Water Flossers: Powerful and Versatile
A countertop water flosser offers a comprehensive cleaning experience, with a wide pressure range that can be adjusted to your comfort level.
1. Pressure Range: These models typically offer a large pressure range, from the gentlest settings for sensitive areas to maximum power for thorough cleaning.
2. Reservoir Capacity: The larger water tank of a countertop water flosser allows for 60 to 90 seconds of continuous flossing. This ensures a complete cleaning without needing to refill.
3. Ideal for Home Use: With more non-stop cleaning, a countertop water flosser is great for consistent use at home.
Cordless Water Flossers: Compact and Convenient
Cordless water flossers are designed with space and portability in mind. Here's why you might consider one:
1. Compact Design: Perfect for small countertops, pedestal sinks, or limited space. Easy storage is a significant advantage.
2. Shorter Flossing Time: Typically lasting 30 to 45 seconds, you may need to refill for a thorough cleaning effect.
3. Portability: An excellent alternative to a countertop water flosser when you're away from home.
4.
Flosmore® FL01
: This particular cordless model stands out with its stepless adjustable water pressure, enabling it to function much like a countertop water flosser.
Conclusion: Making the Right Choice
The decision between a countertop and a cordless water flosser depends on your specific needs and preferences. If you value a robust, non-stop cleaning experience and have the space for it, a countertop model might be the way to go.
On the other hand, if portability and space-saving are crucial for you, a cordless option like
Flosmore®'s FL01
might be the perfect choice.
Remember, both types come with unique benefits, and the most important thing is to find the one that fits your lifestyle and oral care routine best. Happy flossing!