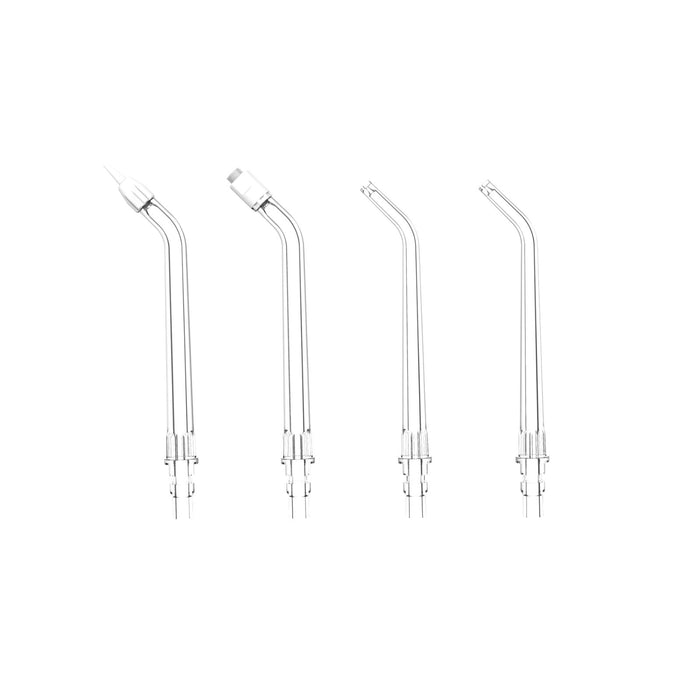 Multiple Jet Tips for Flosmore® CY1000
Original price
$9.99
-
Original price
$9.99
Welcome to Flosmore®'s comprehensive collection of water flosser tips, tailored specifically for your CY1000 model. As an integral part of your oral care routine, these water flosser replacement heads come in multiple jet options to ensure a clean and healthy smile every day.

Firstly, our standard tips, provided in a pack of 2, serve as your go-to choice for everyday use. Designed to clean deep between your teeth and below the gum line, these tips help to prevent gum disease and enhance your overall oral health. These tips act as diligent guards, warding off harmful plaque and maintaining your mouth's pristine condition.

Next, we offer the periodontal tip. This uniquely designed tip is made to deliver water or anti-bacterial solutions deep into periodontal pockets as directed by your dental professional. It is particularly beneficial for those who require specialized care for periodontal health. This singular piece is a potent tool in fighting against gum diseases and promoting oral hygiene.

Last but not least, our collection includes an orthodontic tip. This tip comes with a tapered brush at the end, specifically designed to remove plaque from braces and orthodontics. It effectively flushes out bacteria and food debris from around your teeth and under the gums. If you have braces or orthodontic treatment, this tip is a necessity to maintain the cleanliness and health of your mouth.

Each of our tips is easy to attach and replace, promising a hygienic, effective, and user-friendly experience. Whether it's the everyday cleaning, the targeted care for periodontal pockets, or the intricate cleaning around orthodontics, Flosmore® has you covered. By providing a range of specialized water flosser replacement heads, Flosmore® ensures that every aspect of your dental health is catered for, leaving you with a healthy, bright smile. Embrace the superior care that Flosmore® water flosser tips bring to your oral health routine.