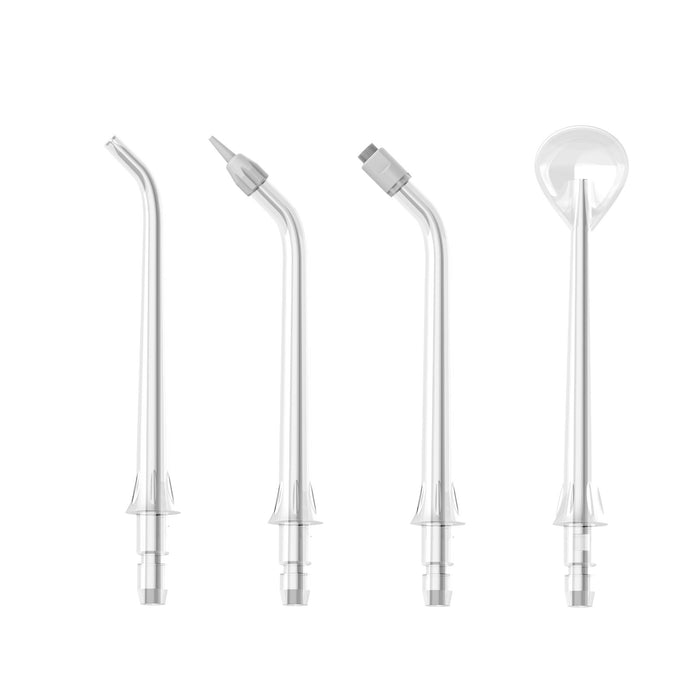 Multiple Jet Tips for Flosmore® FL01/ FL01b
Original price
$9.99
-
Original price
$9.99
Presenting Flosmore®'s premier selection of water flosser tips, crafted exclusively for your FL01 and FL01b models. As part of our commitment to your comprehensive oral care, this variety of water flosser replacement heads offers a tailored approach to maintaining a clean, vibrant smile every day.

To start with, we provide the standard tip. This tip is the fundamental tool for everyday use. It is meticulously designed to clean deep between your teeth and below the gum line, preventing gum disease and improving your oral health. This single piece is an essential component in your routine dental care, ensuring the utmost cleanliness and protection from harmful plaque.

Next in our collection is the periodontal tip. Created specifically to deliver water or anti-bacterial solutions deep into periodontal pockets, this tip is especially beneficial for those in need of targeted oral care. Prescribed by dental professionals, this single tip is an effective weapon in battling gum diseases and maintaining a healthy mouth.

Our range also includes the orthodontic tip. This tip is fitted with a tapered brush on the end, perfect for removing plaque from braces and orthodontics. It efficiently flushes out bacteria and food debris from around your teeth and under your gums. If you're undergoing braces or orthodontic treatment, this tip is indispensable to your oral hygiene routine.

Finally, we offer the tongue tip. Its unique spoon-like shape effectively traps and removes bacteria from your tongue, preventing bad breath and promoting a fresh and clean feeling throughout the day.

With each tip designed for easy attachment and replacement, Flosmore® promises a user-friendly, efficient, and hygienic experience. Covering daily cleaning, specialized periodontal care, intricate orthodontic cleaning, and fresh breath assurance, Flosmore® caters to every aspect of your oral health. Enjoy the superior care that Flosmore® water flosser tips bring to your routine and smile with confidence, every day.